At the Saux-les-Chartreux grocery store
Let us tell you its beautiful story! If it is true that our restaurant offers the largest cheese bell in the world, she Guinness Book Edition 1989! This one was conceived and designed by theonce our partner and artisan cheese maker René Tourrette designed it in 1989.
Why is that? Because all cheeses carefully selected y They are refined and thus reach their maturity and develop all their gustatory qualities!
Its unique technology enhances the flavours and allowswelcome up to 90, 100 varieties. Epicurean at heart, for René Tourrette "Things are only good when they taste like what they are". So true and shared by the founder of the "Al'Epicerie" brand.
This is how the world champion cheese bell is proudly displayed in restaurants At the Epicerie de Chantilly, Saulx-les-Chartreux, Saint Germain en Laye and Grenoble. 
Refined or cooked by our Chef!
Thanks to this unique French technology, to the preliminary work of selection of cheeses coming from the four corners of France for the great majority, you will taste the cheese in all its forms: raclette, fondue, tasting platters from 9 to 15 pieces, dishes from the menu with good cheeses.
On the advice of our Master Cheesemaker, combine the aromas of our mature cheeses with, for example, fig jam from Provence or rosemary from the Rove from the artisanal manufacture Aix&terra.
Photo A l'Epicerie card autumn 2022 : Croustade with Vercors blue cheese, confit of figs with balsamic vinegar, caramelised apples and smoked duck breast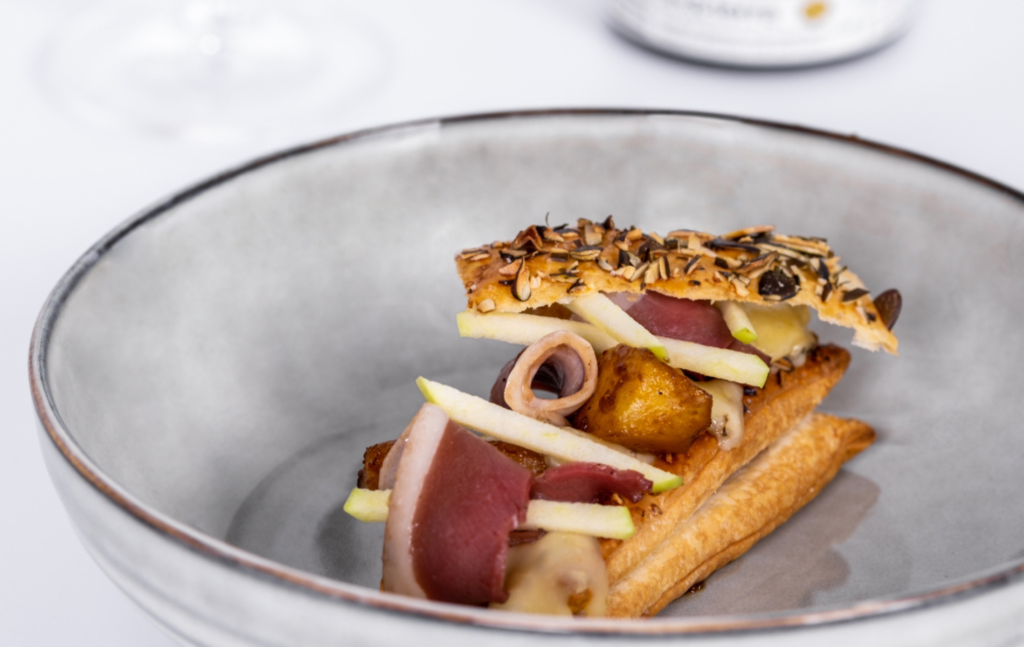 The pleasure of the autumn-winter season
Does the cool autumn or winter wind bite you in the nose? Push open the door of our restaurant A l'Epicerie Saulx-les-Chartreux and enjoy our Mont d'or, Raclettes and other Savoyard Fondues. 
Remember to book to heat and treat your taste buds. Succumb to the sweetness of the warm, runny cheese, accompanied by small onions, cold cuts and potatoes. Let us prepare and cook just for you! Share our social networks and book one of our cocooning evenings!
Photo A l'Epicerie Grenoble
cocktails, finger food menu, pièce montée ...
Would you like to privatise a space, organise a cheese evening, a company party, or dramatise your private or professional event? Cocktails, buffets, finger buffets, cheese platters? With or without entertainment?
We invite you to consult us to find out more about our banqueting and privatisation offers. Our offers include a selection of cheeses matured in our XXL Cheese Cloche, cut and presented: a gustatory delight for your taste buds in the easiest way possible!
Minimum 30 people.